Cattle For Sale

Please see the "What You Can Expect", "Terms And Conditions", and "Special Note" at the bottom of this page.
Coming Soon ...

We have 2 cows that are confirmed pregnant (Honey and Grace).  Honey and Grace are expected to calve in late June / Early July 2023.  Jojo lost her calf late last year, probably due to the extreme heat and dry weather.  She has been exposed to our herd sire (Abraham) and looks pregnant, again.  She will be tested to confirm her pregnancy status.  If she is pregnant, I expect her to calve by mid-Fall 2023.
SOLD  -  Daisy
SOLD  -  Samson
Samson is a cute brown and white steer with a unique black face.  He has a full white belt. Born 10/26/2022, she was 64 lbs and 22 inches at the hook.  Out of Shiloh (Black Baldy) by Abraham (mini Belted).  Tested PHA- & Chondro-free.  He will be available at weaning and can be reserved with a 25% deposit.
$1,000
SOLD  -  Boo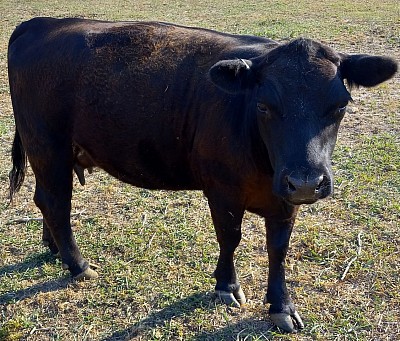 Boo is a gentle adult Lowline Angus cow.  She has been our top breeder for several years.   She is healthy but 2 of the 4 quadrants of her udder no longer produce milk.  I don't have time to co-raise a calf from her, so her days of producing calves for us are over.  She would make a good pet.  Or if you would like to co-raise calves then she would be good for that.  All the calves she has given us were healthy and good-natured.  She will be 10 years old on April 1, 2023.  She is available for delivery at the end of April 2023.
$500
What You Can Expect

All cattle will be vaccinated and boostered with Vib-shield 7+VL-6 (or similar) and 10-way Balckleg. They will be wormed with an injectable ivermectin (or similar).  Heifers will be vaccinated against brucellosis.  Papers will be sent directly to buyer.  They can be steered and/or de-horned for no additional charge.
Our entire herd has been tested by Texas A&M University and confirmed to be free of both PHA (Pulmonary Hypoplasia with Anasarca) and Chondrodysplasia.

Delivery is available in a limited range for $1.50/loaded mile (NOTE - Due to the volatility of the price of fuel the delivery charge is subject to change, so PLEASE ASK for a current price at tome of delivery.  I'm not looking to make any significant profit from deliveries, but if I lose money on them then I can't do it.)
Terms and Conditions

A 25% deposit is required as a down payment to hold an animal.
Deposit is applied to purchase price and is NON REFUNDABLE, unless animal is permanently disabled or deceased prior to pick up.  In that situation the contract will be considered complete and the deposit(s) will be returned in full.
Remaining cost is either a) due at pick up or delivery if paid in cash, or b) one week prior to the animal leaving the ranch, if paid by any other method.
There will be a 3% service charge for payment by credit card.
Calves will be weaned at 6 months of age.

Cattle must be picked up within 4 weeks of weaning or a charge of $3/day will be added to the final purchase price.


Special Note

One purpose of cattle is to provide food for people (
Genesis 9:3
).  There is nothing wrong with that and we are not opposed to it; we do it ourselves.  But we reserve the right to refuse sale of our cattle if we have a good faith belief that they will be abused, seriously neglected, or cruelly mistreated.