Some Information On Miniature Cattle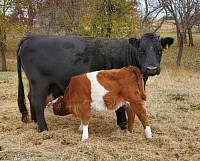 About Miniature Cattle

Miniature cattle are real cattle that are either bred down from larger breeds or are naturally small breeds.  There are many different breeds, colors, and sizes.   Their smaller stature means they eat less than standard size cattle, making them more affordable and practical for smaller acreage properties.  Their body size is large enough to provide a lot of beef, with their smaller stature resulting mostly from having shorter legs.
If you want more detailed information about mini cattle then I recommend you visit the About Mini Cows page on the Oliver Miniature Acres web site.  There you will find information about how big mini cattle are, frame scoring, and different breeds.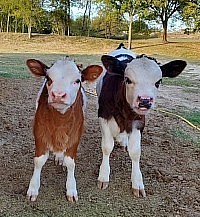 Why Miniature Cattle?

Raising mini cattle is a great way to get started in the agricultural business.  There are advantages of mini cattle over other animals (read about another breeder's reasons for for selecting mini cattle on the About Us page of the Black Dog Ranch web site).
There are also several advantages of miniature cattle over standard size cattle.  As already mentioned, mini cattle eat less than standard size cattle.  That makes them less expensive to raise and also allows you to have more animals for a given amount of land.  For a more extensive list of reasons, take a look at the Why Mini Cattle page of the Oliver Miniature Acres web site.
You can also see the International Miniature Cattle Breeder's Society and Registry (IMCBR) for more advantages of, and information about, mini cattle.